Queen's University library was built with an open-plan approach and with materials that can be recycled after use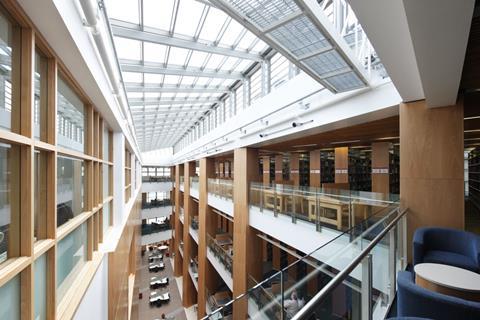 The Sustainability Award RICS Awards 2010 has been clinched by the New Library, Queen's University, Belfast.
The aim of the design was to reduce energy loads and provide energy input as efficiently as possible.
The building, engineered by Buro Happold, was designed to be flexible, with an open-plan approach where possible. Meters enable data on energy, fuel and water consumption to be recorded and reviewed against targets on a quarterly basis.
During the design and specification process, BRE Green Guide 'A' rated materials were selected, including 13 200 sq m of carpet tiling, aluminum curtain walling and rubber flooring. All contained a recycled element and can be refurbished or recycled after use.
The project team included:
Architect: Robinson Patterson Partnership, Shepley Bulfinch and Richardson & Abbott
QS: Hood McGowan Kirk
Structureal, mechanical and electrical engineer Malone Exchange
Contractor: O'Hare & McGovern