North East housebuilder adds that it has set aside £6m for post-Grenfell recladding work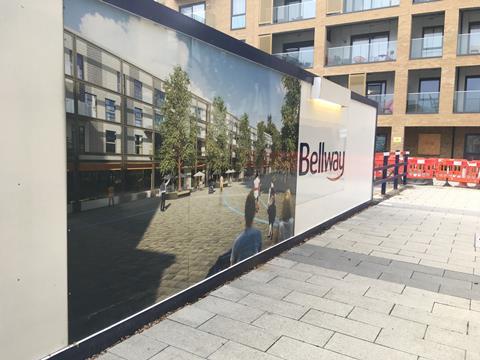 Bellway Homes has completed more than 10,000 units in a year for the first time in its history, the Newcastle-upon-Tyne housebuilder revealed today.
Announcing its results for the year to the end of July 2018 Bellway said it had completed 10,307 homes at an average price of just over £260,000.
Turnover for the year came in at £2.96bn, up 16%, with an operating profit of £653m and pre-tax profit of £641m, both up 14%.
Net cash at the end of the year was £99m and the firm announced a 17% hike in the annual dividend, making the total payout to investors for the year worth 143p a share.
The group noted the contribution of the government's Help To Buy scheme, accounting for 39% of its completions during the year, versus 37% in 2017, while more than two thirds (67%) of its customers using it were first-time buyers.
However it didn't add its voice to the growing calls for the government to extend the scheme beyond 2021.
The group also said that following last year's Grenfell fire it had set aside nearly £6m to deal with what it called "any likely remedial costs" arising from the use of aluminium composite materials (ACM) on a small number of its developments in the UK.
It added: "Bellway has a small number of developments where ACM has been used. Whilst we received Building Regulations approval for their use at the time, as a responsible developer we are fully engaged with the government and our partners to develop solutions that protect our customers and future occupiers…We have also strengthened our processes and training relating to fire safety issues and will continue to develop these in the year ahead as government guidance no doubt evolves."
It is rolling out a new homes range, the 'The Artisan Collection', a range of 24 standardised house types which will help drive down costs "through the scale of standardisation", and launching two new operating divisions; one labelled 'Eastern Counties', building homes in the Cambridge area, and London Partnerships, which will work with housing associations and institutional investors to build affordable homes in the capital.
Looking ahead, Bellway said it was "mindful" that the UK's exit from the EU in March could pose a threat to consumer confidence during the busy spring selling season. "Assuming that market conditions remain unchanged, however, this healthy position should enable Bellway to further increase output in the year ahead," it added.
Brewin Dolphin equity analyst Stephen Williams said: "Management is bold in continuing to grow the business as the housing cycle approaches a cyclical peak. Nevertheless, Bellway's balance sheet is strong and it should be better placed than some of its peers, with a relatively affordable, good quality product."
The housebuilder also announced the retirement of non-executive chairman John Watson after its AGM in December. He will be replaced by current audit committee chairman Paul Hampden Smith.