Housebuilder says it will open two offices as part of expansion plan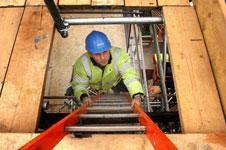 Housebuilder Bellway is planning to open two new offices, including one in London, as part of a bid to grow its business by nearly 50%.
Bellway chief executive Ted Ayres said the firm, which reported half year results last week showing pre tax profit up 48% to £59.9m, will seek to expand from producing just over 5,000 homes per year at the moment to 7,500.
Bellway currently has 12 regional businesses, which Ayres said were not operating at full capacity.
In addition to growing these to full size, Ayres said Bellway was looking to open two further offices "within the next twelve months".
He said one of the offices would be "in the north of the UK" and one would be "in the London area".
Currently Bellway's sites in London are split between four different regional businesses.
Bellway cut down from 18 offices before the credit crunch, and Ayres raised the prospect of the expansion seeing the re-opening of the separate Liverpool and Manchester offices which were merged during the downturn.
An output of 7,500 homes per year would equal the highest amount of homes Bellway has produced, prior to the financial crisis, though Ayres declined to put a timeframe on reaching that figure.
He said: "We see an opportunity to grow our volume in the current marketplace. However, with our current network of offices we probably have an effective cap at around 6,500 units. So we're looking to open a couple more to expand further.
"The time is right for expansion, we're looking at 5% per annum growth for the foreseeable future."
Bellway said it had sold 2,597 homes in the first half of the year, running to January 31 2013, reporting revenue of £502.5m, up 9.6%.
Ayres said reservations of new homes in the period since the half-year end have increased to 133 per week, 10% above the same period last year.
Ayres welcomed the £17bn boost given to housing in the budget last month, and said he was "getting a better feeling" from the planning system.
He said: "Help to Buy is good news for the industry but it's a little bit uncertain at this stage what it'll mean for volumes."