Revenue also up 10% as housebuilder hails 'significant improvement' in housing market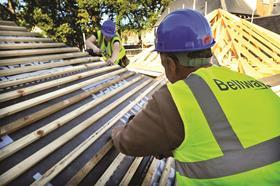 Profit at Bellway Homes is up by a third as the housebuilder hailed a "significant improvement" in the housing market.
Reporting its results for the year to 31 July 2013, Bellway posted revenue of £1.1bn, up 10% on the previous year, with pre-tax profit up 34% to £141m (2012: £105m).
The housebuilder's operating profit rose 32% to £151m.
The firm sold 5,652 homes over the year - a rise of 8% on the previous year, with the average selling price up 3.4% to £193,025, while its landbank increased to 32,991 plots (2012: 31,136).
Bellway Homes chairman John Watson, said: "There has been a significant improvement in trading conditions during the year, largely stimulated through wider access to more affordable, higher loan to value mortgages.
"Government support, and the Help to Buy scheme in particular since its launch on 1 April, has had a significant effect on the housing market, improving mortgage availability and helping to satisfy previously restrained consumer demand.
"These more favourable mortgage conditions, a gradual improvement in consumer confidence, together with a continuing programme of site openings, have allowed the Group to deliver its fourth consecutive year of earnings growth."
Meanwhile in a trading update for the six months to 27 November 2013, Telford Homes reported strong trading with 340 sales over the period, bringing the total number of sales over the year to date to 430.
The London-based housebuilder said profit for the year to 31 March 2014 was "anticipated to be significantly ahead of market expectations due to substantially improved margins".
Jon Di-Stefano, Telford Homes chief executive said: "[We] have been active in acquiring new sites which has enhanced our development pipeline and this, coupled with increasing margins and our forward sales position, will allow [us] to continue to grow the business over the next few years."