Cuts equal around 6% of the company's workforce
Bellway has confirmed it is set to axe to up to 175 jobs in the wake of the coronavirus crisis.
The housebuilder said it has started a redundancy process with around 6% of its 3,100-strong workforce at risk.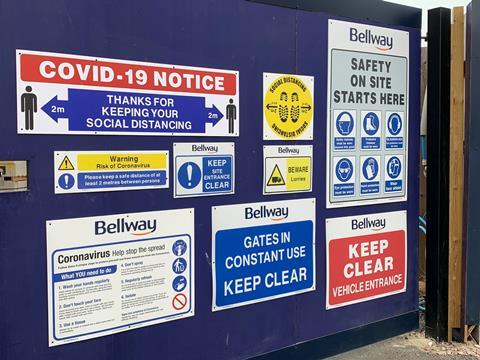 A spokesperson for the firm said: "Bellway is putting a small number of roles at risk of redundancy due to the impact of covid-19 and the subsequent reduction in production it has caused.
"Back in March, covid-19 forced the closure of our construction sites, sales centres and divisional offices back while we introduced new working practices. The new safer way of working on site along with the introduction of social distancing measures has slowed the build process and subsequently had a negative impact on the amount of units we are able to complete."
He said the slowdown and ongoing economic uncertainty meant the firm was having to alter its business model which meant cutting overheads, including the size of the workforce.
The news follows a forecast by the Construction Products Association that new starts by housebuilders are likely to fall by around 60% this year in the wake of the covid lockdown.
Last month, Bellway revealed that sales had fallen by more than two-thirds since the imposition of lockdown.
It said demand was now gradually picking up given the reopening of sales centres but that it still expected "year-on-year sales activity to be severely constrained until a time when lockdown restrictions are further lifted".
Bellway said it had taken 71 reservations per week in the period from 23 March, the date the lockdown began, to the end of May, compared to 231 per week in the equivalent period last year – a fall of 69%.
The housebuilder is the latest in a string of firms to announce covid-19 redundancies with Arup, Bam and Kier all announcing significant job cuts in the past month.
Other housebuilders to have taken the axe to their workforce include Crest Nicholson and modular builder Ilke. Berkeley Group has not commented on reports it is looking to cut 200 roles.