Woodberry Down estate regeneration approved by Hackney council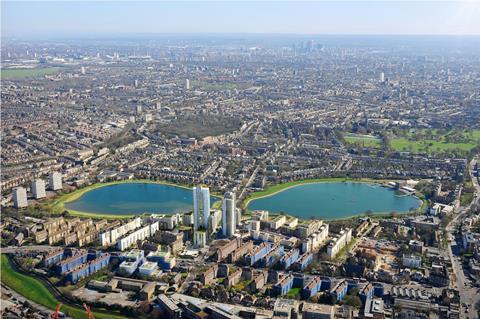 Housebuilder Berkeley Group has received planning permission for its 20-year masterplan for the Woodberry Down Estate redevelopment in Hackney, London.
The 3,912 home masterplan, designed by architect Fletcher Priest's covers 34 ha and includes shops, public parks and open spaces with outstanding views across London. Berkeley is working in joint venture with the London Borough of Hackney at housing association Genesis.
Berkeley has already built the first pahse of the project, and this permission includes detailed designs for the next phase, due to double the size of the existing public park.
Jonathan Kendall, partner at Fletcher Priest leading the project said "It was important that our new masterplan recognised the original ambitions for Woodberry. It has been a great privilege to create the designs that will make Woodberry Down an exemplary London residential district fit for the 21st century".
The design team for the application included planning consultant Rolfe Judd, landscape architect Townshend Landscape Architects, and engineers URS and WSP.