Housebuilding chairman Pidgley issues warning as firm reports bumper half-year results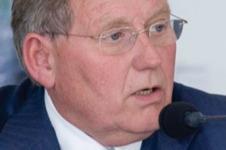 The chairman of housebuilder Berkeley Tony Pidgley has warned political uncertainty around property taxes could hinder housing growth.
Pidgley said that while the government's surprise reform of stamp duty in the autumn statement last week had been "well-received", housebuilders were concerned about further housing policy uncertainty in the run up to next year's election.
In strong half-year results published on Friday, Pidgley said: "[The] announcement on the changes to stamp duty have been well-received by the market generally, but is a further change and we are yet to see consensus from the parties on the likely shape of policy after the General Election, which means continuing uncertainty."
Berkeley posted a 25% leap in revenue to just over £1bn in the six months to 31 October 2014, up from £821m the previous year, while pre-tax profit more than doubled to £305m, up from £170m.
Berekely said it created 1,000 jobs over the period, taking the builder to a 12,000-strong workforce.
The firm built and sold 1,372 new homes in London and the South of England in the period.
Among the schemes in the firm's development pipeline is South Quay Plaza, a two-tower, 73 and 36-storey scheme in London's Docklands, which won planning permission during the period.
The two towers will contain 947 flats and once complete will take over from Berkley subsidiary St George's 50 storey tall Vauxhall Cross Tower as the UK's tallest residential skyscraper.
The company also announced it has acquired one new site in Sevenoaks, and has incorporated two further sites into its pipeline in Kingston and Winchester.
Berkeley managing director Rob Perrins said: "The first six months of this year have seen a return to normal trading conditions from a high point in 2013, which has continued to provide a stable operating environment for the business.
"The demand for new homes, against the backdrop of a shortfall of new housing under construction, continues to underpin the market."