Joint venture firm St William aims to develop raft of brownfield sites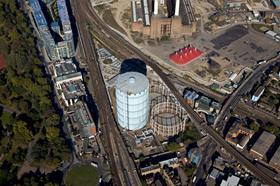 The bosses of a new joint venture between Berkeley Group and National Grid to develop on the electricity infrastructure provider's bank of brownfield sites believe it could become one of the UK's top ten housebuilders.
Last week the two firms announced they were forming a £700m joint venture to develop National Grid Property Holdings' "significant portfolio of surplus brownfield land".
The initial focus of the firm, named St William, will be on developing land across the Greater London area, with the first start on site in 2016 and the first homes would be complete the following year.
Speaking to Building, Berkeley Group executive director Sean Ellis said: "It has the potential to become a top ten housebuilder in its own right.
"We are looking at a profit contribution in about three years and building to a significant level in 2022."
He added that one of the first sites to be developed was that of an old gas facility in Battersea (pictured) adjacent to the power station that is being developed by joint developers Sime Darby and SP Setia.
He said architect Squire and Partners had been appointed to design the 800-home scheme, which will also include retail and commercial space.
Ellis said a planning application would go in soon.
The equity invested by the 50:50 joint partners will initially be capped at £175m each. Berekeley said that including bank finance this would give the joint venture £700m of available funding.
Phil Edwards, joint venture programme manager at National Grid Property, said the idea for the joint venture arose while the two firms developed National Grid's 80-acre Southall site.
Edwards said National Grid wanted a partner that could deliver "complicated urban regeneration projects" and Berkeley's record of these type of scheme was attractive.
Whitman Howard analyst Stephen Rawlinson said the news could see expectations of future Berkeley profit rise. "More detail is needed to understand the impact on performance but as this is additional to existing expectations it is positive to the stock," he said.