Government urges housebuilders to pitch for grants to build shared ownership homes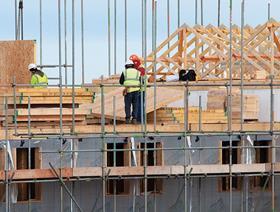 A total of £4.7bn in funding is up for grabs from government for housebuilders and developers to build over 150,000 shared ownership homes.
The government has started the bidding for its reformed Shared Ownership and Affordable Homes Programme, which aims to increase the supply of new shared ownership and other affordable homes in England by March 2021.
It said it's making £4.7bn available between 2016 and 2021 to deliver at least 135,000 homes for help-to-buy shared ownership, 10,000 homes for rent to buy and 8,000 homes for specialised housing.
Funding outside London will be allocated by the Homes and Communities Agency through the affordable homes programme, while a separate programme for London will be delivered by the Greater London Authority.
The government said it wants to see greater involvement by the commercial housing sector in delivery, particularly shared ownership homes, and has urged housebuilders to use "modern and innovative" construction methods including off-site construction.
Communities secretary Greg Clark said: "We've reformed the rules to make these homes available to the widest possible range of buyers – and to make the capital grants open to widest possible range of developers and housing providers.
He added that the government aims to "encourage innovation – both in partnerships for local housing delivery and in the use of advanced construction technologies."
Bidding opened this week and runs until noon on 2 September, with initial funding allocations expected to be announced by mid-December.