Dar Group, Gpad London, Nicholas Hare and EPR make shortlist
Practices including Zaha Hadid Architects, AHMM and Hawkins Brown have fallen by the wayside in the competition to redesign Old Street Roundabout on London's City fringe.
Contest organiser Islington Council yesterday announced it had whittled down a 39-proposal longlist to just four entries: Dar Group, which includes Perkins & Will; Gpad London; Nicholas Hare Architects and EPR Architects.
Zaha Hadid Architects and AHMM had vyed to land the redevelopment scheme.
The authority launched the call for ideas to reimagine the site in December, in conjunction with neighbour Hackney Council and pan-capital mayoral body Transport for London, which is due to end Old Street Roundabout's days as a gyratory system next year.
Built in the 1960s and featuring a network of subways, shops and above-ground advertising, Old Street Roundabout is a totem for the capital's tech community. Islington asked practices to come up with proposals for new public art and "smart city" innovation, at the same time as retaining the current high-profile advertising opportunities and accommodating infrastructure for Old Street Underground Station.
A proviso for the submissions was that they should be deliverable with a budget of £1m, unless teams could identify viable external funding.
Dar Group's 'Old Street Circus 2050' proposal envisages reclaiming the roundabout "for the people of London" and transforming it into a "genuinely useable, vibrant, healthy and safe public space hosting a wide-range of public, private and commercial activities such as film screenings, concerts, artwork, street-markets and festivals".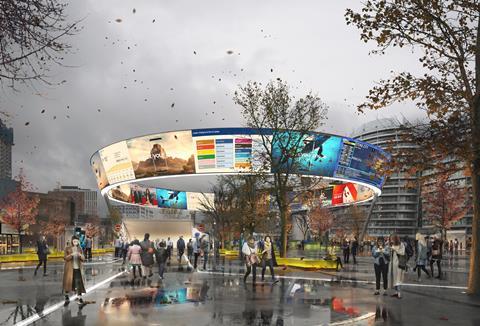 The team's vision also includes a "longer-term" plan to incorporate a sculptural ring of light that brings together information and advertising, along with green infrastructure.
EPR Architects' shortlisted scheme is named 'The Iris' and was created in conjunction with Hoxton-based artist Martin Richman, landscape artist Gillespies and consultants Entuitive and Materials Council. It is described as "a piece of metropolitan land art centring around a reflective lens facilitating interaction, inclusive gatherings, performances, play and relaxation".
Gpad London's 'Old Street Digital Garden' proposal, created in conjunction with 3D visualisation studio Eye-Kon, promises a forest of electricity-generating lights enveloping a new pavilion, a water feature and a "digital totem" that would host an automated cycle-parking structure behind advertising screens.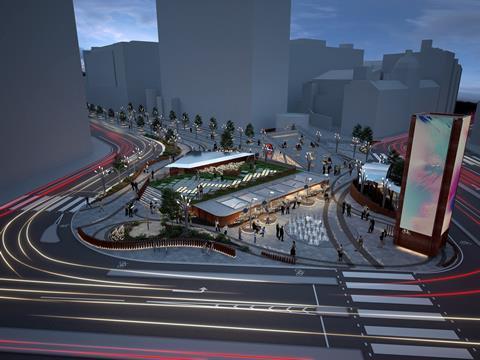 Nicholas Hare Architects' 'Old Street Park' proposals, drawn up with Price Myers, Hoare Lea, and FIRA, offers a "flexible, green, smart public space for cyclists, residents, workers and visitors" that pledges to "harnesses the social, environmental and economic aspirations of the area for the Old Street community".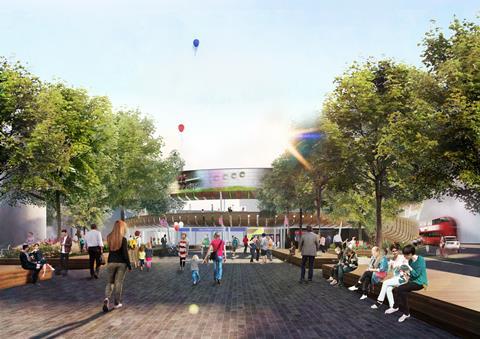 The shortlisted designs were picked by a judging panel chaired by Islington's environment and transport lead, Cllr Claudia Webbe, which featured Gehl Architects associate and UWE Bristol academic Allison Dutoit.
Webbe said Old Street had global recognition as a vibrant hub of technology and culture and that Islington's ideas call had inspired many bold and exciting proposals.