But BIM tsar says he expects central government support to continue beyond 2016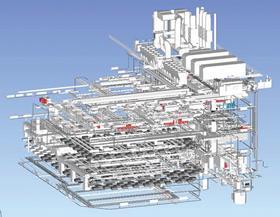 The government's BIM tsar Mark Bew expects central government support for BIM to continue beyond 2016, despite the task group charged with implementing the policy receiving less funding than hoped for in this year's Autumn Statement spending round.
The BIM Task Group - which Bew chairs - received a "small budget" from the Treasury to launch a strategy for rolling out BIM level three in last week's Autumn Statement, with a level three strategy launch expected as early as January.
But Bew, speaking to Building, admitted the funding was a "start-up" fund rather than a longer-term commitment to rolling out BIM level three beyond 2016, when the government's BIM level two adoption target elapses.
Bew said: "We've got a small budget to mobilise [BIM level three] and hopefully further lumps of funding will come later on.
"There's a general election coming so the timing couldn't be worse, but we're hopeful for funding after the election […] I can't see us not surviving in some form or another."
The task group will oversee a "managed handover" during 2015 to a newly-created legacy group that will oversee BIM level two adoption up to 2016.
Bew said he was confident for the future of BIM, despite a lack of certainty over long-term central government support.
Bew said: "I'm personally determined to see things through. The difference between this and other initiatives in the past is that this is a proper partnership between industry and government."