Deals include city centre site called New Gardens Square
A proposed £330m regeneration scheme to develop a 9.5 acre site to the west of Birmingham city centre has been approved by the local council.
A partnership between Calthorpe Estates and regeneration group U+I will work together on the proposals, designed by local firm Glenn Howells Architects, which will see a new mixed-use development go up called New Gardens Square.
The site (pictured) will feature up to 57,500m² of new office space, 2,400m sqm of retail, up to 400 apartments, a 100-bed hotel and a car park for 900 vehicles.
Calthorpe's development director Ralph Minott said: "Although now very tired and suffering serious obsolescence, this site was one of the early important concentrated office conurbations on this side of the city.
"As such, its regeneration as a transformational scheme for the future, aligned with the other major investments announced such as the metro extension to Five Ways, will be significant for the city's Business Development Plan and to Edgbaston's commercial centre for future generations."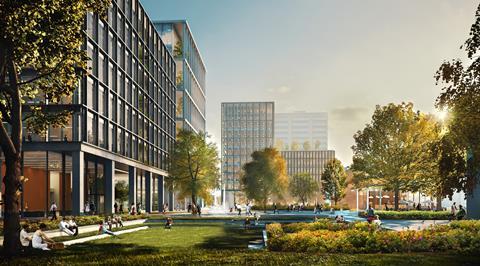 Elsewhere in the city, a design team led Associated Architects has been appointed to undertake a feasibility study for the modernisation of the city's Grade II-listed council house complex, parts of which date back to 1879, and the redevelopment of Birmingham Museum & Art Gallery.
The practice will work on the study with project contractor Bouygues, together with conservation architects Rodney Melville & Partners and M&E engineer Hoare Lea.
The final report is due in June next year.