The £183m development will be 42-storeys high and house 481 apartments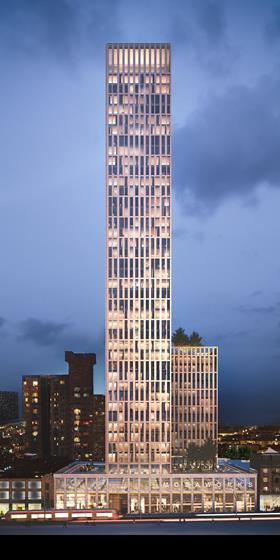 Birmingham's tallest residential tower, standing at 42-storeys high, has received planning permission from the city's council.
Developer Moda will build the skyscraper and manage it for residents, transforming the former Clicks nightclub into a 481-apartment scheme designed exclusively for rent. The architect is Birmingham-based Glenn Howells.
The £183m development, named 2one2 Broad Street, will house apartment sizes ranging from studios to three-beds, alongside amenity spaces spread across the building.
It will feature more than 30,000 ft2 of communal space including a residents' lounge and health and wellness zone; 35,000 ft2 of retail and leisure space provided in a three-storey podium; and 200m running track that will sit outside in the podium roof, offering panoramic views of the Birmingham skyline.
The development lies opposite Brindley Place – Argent's 1.2 million ft2 mixed-use commercial scheme – and is within five minutes' walk of Centenary Square, and the new Paradise Circus and Arena Central developments delivering three million ft2 of new mixed use commercial space.
Tony Brooks, managing director at Moda, said: "We're confident high quality rental housing will further boost the city's fight for talent and investment as companies realise the huge potential the Midlands has to offer.
"Renters have been poorly served by the housing market and the aim of build to rent is to change that by providing everything people need - from workspace to wellbeing – with a mix of community, security and great service."
Plans for 2one2 Broad Street were initially submitted to the council at the end of September. Birmingham's tallest tower is currnetly the 152m-high BT Tower, built in the 1960a.
Moda Living is backed by Apache Capital Partners and has a £1.5bn pipeline of 6,000 rent-only apartments in city centre sites across the UK. Other schemes are currently underway in Liverpool, Leeds, Manchester, Glasgow and Edinburgh.