GMB union travels to Stockholm to lobby at annual meeting on Thursday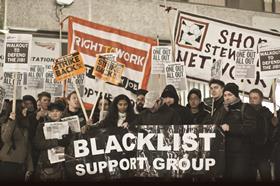 Skanska's annual shareholders meeting in Stockholm this Thursday is to be targeted by anti-blacklisting protestors.
The GMB union today confirmed that it is taking a delegation to the Swedish capital alongside members of the Blacklist Support Group to call on the construction giant's Swedish managers to compensate victims of construction industry blacklisting in the UK.
In February, an analysis by Building revealed that Skanska was one of the biggest clients of blacklisting firm The Consulting Association (TCA) and spent more on its vetting services in the last four years of its existence than any other contractor.
Then last month, the firm's executive vice president of human resources, Harvey Francis, told the Scottish Affairs select committee that, between 2005 and 2009, Skanska had checked the names of 66,000 people hoping to work on its UK projects - many of them in the public sector - against the blacklist.
Justin Bowden, GMB national officer, accused Skanska of refusing to pay compensation to workers whose lives he said had been "ruined" by being denied work.
He said: "Skanska appeared in front of the Parliamentary select committee hearing into blacklisting just last month and said how deeply they regretted their 'inexcusable' role in the blacklisting of 3,213 construction workers and green activists.
"From 1996/7 to 2008/9 Skanska and its predecessors spent £216,000 with [TCA]. This was second only to the £220,000 spent by [Sir Robert] McAlpine. As it cost £2.50 to check a name, Skanska checked an awful lot of names.
"However Skanska has refused to pay a single penny in compensation. Indeed they have said that they will fight any legal action against them.
"GMB is travelling to Stockholm to alert the Swedish people and the shareholders of Skanska of such double standards. GMB wants the managers Skanska employed to be told that the building workers and their families, whose lives they ruined, must be compensated."
A spokesperson for Skanska said the firm would "assess the validity" of any claim for compensation made by any individual "if they can demonstrate that our actions prejudiced them getting work and they suffered loss as a result".
The spokesperson added: "Skanska welcomed the opportunity to attend the Scottish Affairs Select Committee hearing… and to answer the committee's questions.
"When the matter of TCA was first brought to our attention, we cooperated fully with the investigation carried out by the UK Information Commissioner, which subsequently confirmed to us that no enforcement action need be taken against Skanska.
"The use of blacklists is against the values and behaviours of our company. We recognise and support employees' rights to form or join trade unions and we take a proactive approach to building good relationships with the unions.
"Following the closure of TCA in 2009, Skanska carried out a thorough investigation into its use of the service, so that we could take steps to ensure we comply with best practice. Driven by our code of conduct, we are committed to an ethical and lawful approach to business, and we promote a culture of care for everyone who works with us or for us.
"We can confirm that Skanska is not engaged in any covert vetting or blacklisting and is not aware of this continuing in the UK construction industry."