London mayor to recommend one of three proposals for UK airport hub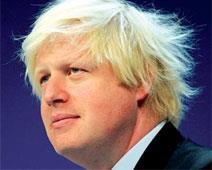 London Mayor Boris Johnson is to ask a team of consultants to look in detail at three proposals for an hub airport to the east of London designed to replace Heathrow.
Speaking to the Transport select committee yesterday, Johnson said that he was looking closely at plans for a new hub airport in either the outer Thames Estuary (dubbed Boris Island), the inner Thames Estuary, or through an expansion of Stansted Airport, and would select a favoured option by "early next year".
Johnson said a new hub airport would cost in the region of £80bn once transport links were included, of which around £25bn would ultimately have to be provided by the public sector. He also admitted that the bill would include a £15bn fee to compensate the owners of Heathrow airport for their investment.
He said the conclusions of his work would feed in to the commission run by Sir Howard Davies which was set up by prime minister David Cameron last summer in order to decide the issue.
Johnson said: "The objective is to find a solution to give us a four-runway hub, ideally a 24hr-operation one. That's why Boris Island, the inner estuary proposal and Stansted airport are the current ones Transport for London looking at. It is inconceivable that Heathrow could be expanded without colossal political problems and unacceptable pollution to the residents of west London. There are three options in the frame.
"We'll be working with the Davies Commission, but I think it'll be possible by early next year to come to a view on what the way forward might be."
Davies is due to file an interim report before the end of the year, but his final conclusions of the location for a new hub airport will not be unveiled until after the general election in 2015.
Johnson's testimony came after he yesterday named a list of consultants appointed by TfL to assess the proposals, including Atkins, Zaha Hadid, Pascall + Watson and Ramboll.
Boris told MPs on the select committee that he had rejected the idea of expanding Heathrow further to the West. He said a UK hub airport was vital to ensure that UK travellers were afforded the range of direct flights to business destinations necessary to promote economic growth.
On the cost of the project he said: "We think the overall bill would be in the region of £70-80bn. A significant proportion of that would come from the private sector. But about £25bn, one way or another, would have to come from public finance, in order to get the ground and rail infrastructure right.
"I think it'd pay for itself – as the real cost would be not equipping the UK economy with a viable hub airport for the coming century."
However, Johnson's testimony followed an appearance at the committee by Ed Mitchell, direct of environment and business at the Environment Agency, who said that a new hub airport would have unknown environmental impacts, including of potentially increasing flood risk in the Thames Estuary.
Mitchell said: "There would be flood risk to any potential estuary site. Creating or realigning land does potentially create flood risk elsewhere [in the estuary]. It would be a case of assessing specific risks of any project design against the [flood] protections already in place."
Transport secretary Patrick McLoughlin, speaking to the committee, declined to comment on the site of a new hub airport, saying he did not want to pre-empt the Davies Commission's findings.