Architect-led group will submit plans to the Airports Commission in July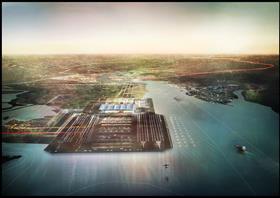 The Foster + Partners-led consortium behind the Thames Estuary hub airport proposal will submit formal plans to the Airports Commission in July.
The Airport Commission – led by Sir Howard Davies – has been commissioned by the government to investigate airport capacity in the UK.
Foster + Partners is working with engineer Halcrow on plans for a four-runway airport with a capacity for 150 million passengers, to be built on a platform on the Isle of Grain in the Thames Estuary.
Lord Foster said: "We welcome the Airports Commission – it is an important task and demonstrates the government's commitment to tackling the aviation issue.
"Decisive action must be taken in planning for future capacity if Britain is to remain competitive.
"We believe that a new four-runway Thames Estuary airport can best provide the connectivity and future flexibility that Britain desperately needs, while improving the lives of the millions of Londoners blighted by Heathrow's flight path."