Bristol Council has confirmed its selection of Bouygues UK as the preferred bidder for its new arena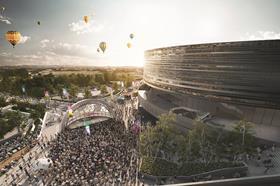 Bristol Council has confirmed Bouygues UK's appointment as preferred bidder to build the £90m Bristol Arena.
The council said it planned to award the contractor the pre-construction services agreement for first phase pre-construction services as part of a two-stage design and build procurement.
Building first revealed Bouygues UK's appointment last Monday. However, three of the five bidding contractors – Laing O'Rourke, BAM and Sir Robert McAlpine - shortlisted last November walked away from the contest, according to market sources.
The firms departed after refusing to sign up to the council's "inflexible" bidding terms, according to one source.
Bristol Council will now work with Bouygues UK to agree a final package of works and target cost for the arena prior to awarding a building contract, following Cabinet approval, in the summer.
Mayor of Bristol George Ferguson said that the selection of Bougyues UK marked an important step in delivering the new venue, while Bouygues UK's regional managing director for the Western region Chris Stevens said the firm was excited to be working with the council on the new development.
In March last year Populous and Feilden Clegg Bradley won the RIBA competition to design the 12,000 capacity arena and developed the plans with engineer Buro Happold. Aecom is also on the project acting as cost consultant and employers agent.
Two planning applications are due to be considered by a planning committee on 2 March. One detailed application is for the arena building and access and the other is an outline application for the future development of housing, business and leisure uses adjacent to the venue.
Located in the Allies & Morrison masterplanned Bristol Temple Quarter Enterprise Zone the arena is scheduled to open in 2018.