Centre for UCLH will now open a year later in 2020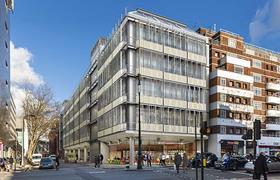 Construction delays have pushed a flagship NHS project back by a year, Building can reveal.
The £190m project to build a state-of-the-art cancer hospital (pictured) in the heart of London will not be ready to start treating patients until 2020, rather than 2019 as previously anticipated.
The new hospital will offer proton beam therapy – an advanced type of radiotherapy which can be targeted so precisely that cancer cells can be destroyed without the collateral damage caused by conventional radiotherapy.
But the new facility, being built by Bouygues UK for University College London Hospitals NHS Foundation Trust, is already months behind schedule meaning that the construction timetable has been put back almost a year.
In a statement to Building, a UCLH spokesperson said: "The construction project is exciting, and exceptionally challenging, for example, we have recently completed one of the largest excavations in London.
"When we contracted with Bouygues UK, we targeted a first patient treatment date in late 2019. As a result of the complexity of the project, we have agreed a revised construction programme with Bouygues UK, which has been managed within the existing financial capital envelope. This new programme has a first patient treatment date of late summer 2020."
Designed by Scott Tallon Walker Architects in association with Edward Williams Architects, the 25,000m2 facility is under construction on a site on the corner of Tottenham Court Road and Grafton Way, in central London. Five levels of the 11-storey building will be underground.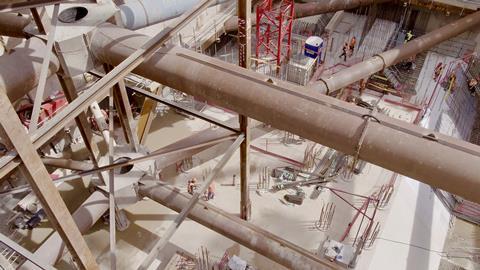 Work began on the site less than two years ago and mounting concern over the progress of the project has seen it given an 'amber' rating by the government. This means that while successful delivery "appears feasible" there are "significant issues" which need to be resolved, according to government officials.
New data released by the Department of Health (DoH) last month, alongside an annual report on the state of major government projects, shed light on the challenges facing the project.
It revealed: "UCLH flagged a number of construction issues at the National PBT Programme Board on 5 September 2016 and indicated that there was a risk of significant slippage to its first patient treatment date – a key programme milestone. Such slippage would impact on programme costs and the speed of transition to the new service."
The project "commentary" by the DoH added: "UCLH is forecasting slippage against a key programme milestone."
Work was expected to begin in spring 2015 with the hospital finished by 2018. But ground was not broken on the site until December 2015 and Arnaud Bekaert, managing director, Bouygues UK, commented at the time: "Never ones to shy away from a technical challenge, we have given ourselves several here at once." Work on the 28.5m excavation has been carried out with the Northern Line just 10m away.
There are currently no high energy Proton Beam Therapy centres in the UK and fitting out the hospital will involve installing 600 tonnes of equipment.