French conglomerate says construction profits will improve this year
Bouygues said it expected to see margins at its construction arm improve in 2020 after it posted a €31m (£26m) dip in operating profit last year.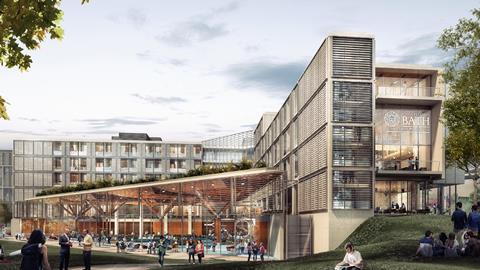 The French giant said its construction business generated €29.5bn (£25bn) in turnover in the year to 31 December 2019, up 6%.
Despite this increase, the firm's construction arm, which last year was handed a £40m construction contract to build the new Hopkins-designed school of management at Bath university (pictured), reported an operating profit down 3.3% at €910m (£758m), resulting in a margin of 3.1%, versus 3.4% in 2018.
The group, which announced last November it was closing its Birmingham and Manchester offices due to "a challenging construction market" in the North-west and the Midlands, said its Colas rail business, currently working in the UK with Network Rail on projects worth €553m (£460m), broke even during last year.
Bouygues said its construction business had recovered quickly from a cyber attack launched on the business in January this year, adding that the impact on the operational and commercial activity of its systems had been "very low".
Total group turnover was €38bn (£32bn), up 7%, while group operating profit dipped 7% €1.7bn (£1.4bn).
Bouygues also owns TF1, France's leading TV channel, which accounted for 15% of the group's overall operating profit.