Phase two of Hallsville Quarter in Canning Town will include a mix of private rented, private sale and shared ownership homes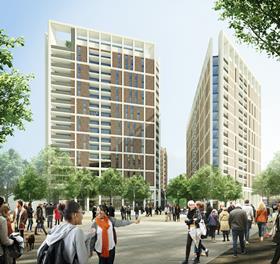 Bouygues' development arm has inked financing deals to kickstart phase two of its Hallsville Quarter scheme in Canning Town, east London.
Bouygues Development has reached financial close with investors Grainger, Accor Hotels, Mountain Capital and One Housing for various elements of the phase, which comprises 349 homes, a hotel and associated infrastructure works.
Bouygues works in partnership with the London Borough of Newham on the scheme and the French group's UK contracting business will build out the phase.
Accor will own and operate a 196-bedroom hotel, Grainger will own and manage 134 private rented sector homes, Mountain Capital will purchase the private residences, and One Housing will own and manage the shared ownership housing.
Dubbed Hallsville Quarter, the project is planned to be a new town centre and forms part of the wider £3.7bn Canning Town and Custom House Regeneration Programme.
The designers are John McAslan + Partners, Hunters and Associated Architects.
In its entirety, Hallsville Quarter is envisaged to be completed over five phases, adding 1,100 new apartments to London's housing stock.
Grainger said it will invest £33.3m in its portion of the scheme, a 16-storey, 90,000 sq ft block of 134 flats. Ground broke this month and completion is expected mid-2017.
The investment will be made through Grip Unit Trust, the private rented sector (PRS) investment fund Grainger has set up in partnership with Netherlands-based pension fund asset management company APG.
Besides Grainger's rentals, Bouygues says there will be 160 homes for outright sale managed by Mountain Capital, as well as 55 affordable, shared-ownership units under housing association One Housing.
Twenty of the government-sponsored shared-ownership flats will be in Silverlight House, which is nearing completion in Silvertown Square, according to One Housing.
Rachel Claire Lee, from Site Sales, the company tasked by One Housing with managing these properties, told Building: "We are working on finalising the pricing and the brochures for Silverlight. We are looking to launch in March [this year]."
Accor's Ibis Hotel, another integral part of the up-and-coming area, will have 196 bedrooms.
GVA Grimley Ltd of Mayfair, a subsidiary of the Bilfinger Real Estate conglomerate, will be responsible for marketing the reported 323,000 square feet of retail and restaurant units.