French giant returns to black in the first nine months of year
Operating profit at Bouygues' global construction division rocketed 29% in the first nine months of 2019, boosted by a turnaround at the firm's energy and services division.
The French contracting giant, whose UK construction arm is currently building Bristol's tallest residential tower – a 26-storey block designed by Chapman Taylor – and is also working on the Hinkley Point nuclear power station (pictured) in Somerset, said its construction division's operating profit rose over the first three quarters to €545m (£467m) on turnover up 9% to €21.6bn (£18.5bn), suggesting an operating margin of 2.5%.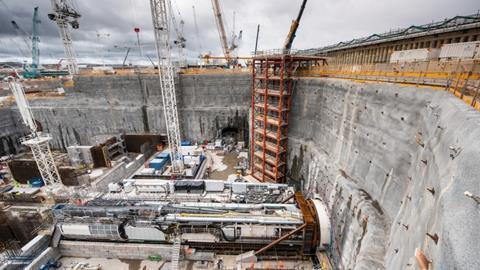 The firm put the improvement down to a strong showing by its energies and services division, which reported a €51m (£44m) profit in the first nine months of 2019, after posting a €139m (£119m) loss in the same period last year.
Recent orders for the firm's global construction business include a €364m deal (£312m) for excavation work on a 4km-long tunnel in Hong Kong and a 1.1km taxiway at Los Angeles international airport worth €75m (£64.3m).
Total construction activity accounts for nearly 80% of the firm's overall turnover.
Last month Bouygues' UK business reported that it had plunged into the red in 2018, posting a £1.7m pre-tax loss on turnover down 24% to £452m.
Bouygues also owns TF1, one of France's most-watched TV channels, plus a telecoms business.