Housebuilder plans further growth as it reveals strong trading last year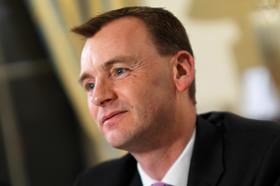 Bovis Homes is gearing up to deliver up to 4,000 homes this year, according to the housebuilder's chief executive David Ritchie.
Speaking to Building after Bovis posted a strong trading update, Ritchie said the firm was expecting to deliver around "8-10%" more homes in 2015, up from 3,635 completions last year.
Ritchie said he expects housing market trading this year to be "similar to the whole of 2014", despite some expected "disruption […] around April and May" in the run up to the general election.
Ritchie said he believes election-related disruption will be minimal, as "boosting housing supply is going to be a key part of both main parties' manifestos".
Bovis will ask the parties to pursue policies that increase land supply, support the Help to Buy scheme and are proactive in working with developers, Ritchie said.
Commenting on the government's changes to stamp duty in last month's Autumn statement, he said: "It is really helpful, but it won't fundamentally change the volumes of the sector. It underpins current activity levels."
In its statement Bovis said it is set to announce a "significant increase" in pre-tax profit in full-year results for the 2014 calendar year published next month.
The housebuilder said its operating margin last year increased to 17%, up from 14.9%.
The firm also said achieved a 29% increase in legal completions to 3,635 homes last year, up from 2,813 in 2013, while Bovis posted an 11% increase in the firm's average sales price to £216,600, up from £195,100
During the year the firm added 7,300 plots to its consented land bank across 42 sites, with the land bank growing to around 18,000 consented plots at year end.
Bovis will publish its full-year results on 23 February.