Housebuilder working out of more than 80 sites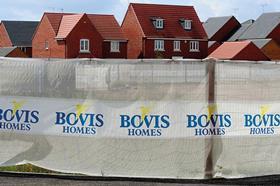 Bovis Homes has said trading is in line with expectations, ahead of its AGM this afternoon.
The housebuilder gave no new guidance but said it had opened 12 new sites so far this year taking the number of its active sites to 84. The firm said it has 11 new sites launching in the coming months.
In its update, the firm added: "Market fundamentals remain strong. We continue to see good levels of demand for new homes across all our operating regions with underlying pricing remaining firm."
It said it was "making clear progress" on its medium term target of 23.5% gross margins and added: "We have seen positive results from our margin initiatives which represent further margin potential for the group in the medium term."
The firm is due to unveil its interim results on 6 September. In 2017, it posted a 26% fall in pre-tax profit to £114m as it booked exceptional items, including repairing unfinished homes and restructuring costs, totalling £10.3m. Revenue dropped 3% to £1bn.