Group says Partnership Housing Division will be led by Keith Carnegie as it announces record pre-tax profit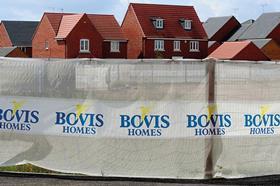 Bovis is the latest housebuilder to launch a new housing division, headed up by the group's chief operating officer Keith Carnegie, to develop homes specifically for UK housing associations.
The company said housing associations were looking for new ways to support their affordable housing delivery and that following the Letwin review and the government's focus on quicker delivery of larger schemes it would work with such organisations to build much needed homes.
Bovis's new Partnership Housing Division would be a land-led strategy "reflecting our valuable and deliverable strategic land bank with a number of sites of significant scale," the group added.
Bovis is already collaborating with housing associations on a number of schemes and recently entered into a 50:50 joint venture with Clarion Housing Group for the development of the housebuilder's site at Sherford in Devon.
The new division was announced as the housebuilder reported a record profit in 2018, marking a turnaround in fortunes since Greg Fitzgerald was lured out of retirement two years ago to head up the business.
Revenue for the year to 31 December 2018 rose 3% to £1.1bn and operating profit increased by more than a third to £174m, suggesting an operating margin of 16.4%, versus 2017's 12.5%.
Pre-tax profit came in at £168m, up 47% and a record for the group, the company said.
Including partnerships the group said its landbank now amounted to nearly 19,300 plots, and completions during 2018 amounted to 3,759, with an average selling price of £273,200. Help to Buy had been used in 38% of its private sales, up from 37% in 2017, it added, while affordable homes accounted for 1,192 completions.
Bovis did not give any details around its order book.
Chief executive Greg Fitzgerald said the housebuilder had made "substantial progress operationally over the past 18 months…and a step change in our operating margin".
"We have transformed the quality of our product and customer service and are delighted this is reflected in our four-star housebuilder status for 2018.
"Looking ahead, we are implementing many initiatives including our new Phoenix housing range and the development of our new Partnership Housing division."
The 2018 results are a far cry from two years ago when Bovis was fending off advances from Galliford Try and Redrow and was mired in quality issues around some of its newly-built houses.