The pop-up shipping container venue will open late next year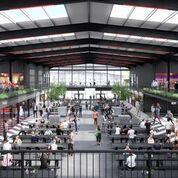 Boxpark and Quintain have submitted plans to the Brent council for a new venue at Wembley Park in north west London under a 10 year joint venture agreement.
The new dining and event destination wil be located on the road leading to Wembley Stadium in the centre of the 85-acre develpment.
The 50,000 ft2 of floor space will include 27 independent food and beverage operators, with unit sizes ranging from 500 ft2 and 1,800 ft2.
A dedicated events space will span 20,000 ft2 and a range of events for up to 2,000 people, with construction on 3,000 homes sett to begin over the next six weeks.
Boxpark Wembley is set to open by the end 2018 and in the coming months will begin letting the units to traders across London. The firm already operates shipping container pop-up malls in Croydon and Shoreditch.
James Saunders, chief operating officer at Quintain, said: "Boxpark Wembley is the next step in Boxpark design evolution. Our hope is to work closely with the major venues in the area to create an innovative fan experience."