UKTI figures show UK firms have won less than 1% of Brazil's expenditure on 2014 World Cup and 2016 Olympics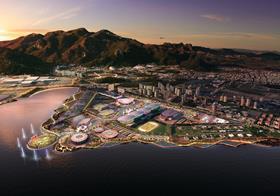 Construction firms from the UK have won roughly £39m of contracts on Brazil's upcoming 2014 World Cup and 2016 Rio Olympic Games, UK Trade & Investment has disclosed.
The figure represents just a tiny fraction - less than 1% - of Brazil's circa £18bn expenditure on staging the two global sporting events, with most construction contracts already allocated.
The limited haul comes after politicians including David Cameron pressed UK firms to capitalise on their success delivering London 2012 venues and infrastructure and follows several UK Trade & Investment (UKTI) trade missions to Brazil.
It is unclear how many UK firms have been unsuccessful, but anecdotal evidence from UK teams that have won work on the Rio Games, including Aecom and ANDArchitects, suggests UK firms have failed on many bids.
ANDArchitects partner Rachel Nogueira said: "They're using really local firms. […] There hasn't been any shortage of UK firms going out there." Under Olympic Delivery Authority rules, UK firms were barred from marketing their contribution to the 2012 Olympics until an agreement to relax the protocol was reached at the start of this year, after most of the contracts for Rio were already let.
Six UK firms have won work on the Rio 2016 Games: a UK-led masterplanning team from Aecom, Wilkinson Eyre and Expedition Engineering; and ANDArchitects, Arup and 3D Reid as part of Brazilian-led consortiums designing various venues. A UKTI spokesperson said Expedition Engineering has also won a hitherto unpublicised role project managing the Olympic park development, as part of a consortium led by Brazilian engineering giant Concremat.
The UKTI spokesperson said that although most of the construction work on both the 2014 World Cup and 2016 Olympics has now been allocated, in its view the UK wins had been "significant" and UK firms had "capitalised on the success of London 2012".
Elsewhere in Brazil, Arcadis revealed it had won a further contract on the expansion of Guarulhos airport in São Paulo, Brazil's largest airport. Arcadis and UK subsidiary EC Harris signed a deal this month to prepare under-construction terminal three – which Arcadis is already project managing - for the spike in international passengers expected during next summer's World Cup.
Mott MacDonald, which entered the Brazilian market in April through acquisition of local engineer Habtec, said it was targeting expansion in Brazil's energy, mining and transport sectors, particularly solar, wind and rail.