Construction worker dies after falling from roof of stadium where England team will play its first World Cup game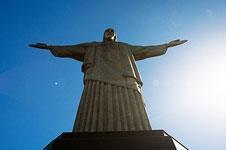 A worker has died after falling from the roof of the 2014 World Cup stadium being built in the Amazon region of Brazil, where the England football team will play its first game.
According to the BBC the worker, Marcleudo de Melo Ferreira, 22, died in hospital in Manaus after falling nearly 35m.
Andrade Gutierrez, the company building the Manaus stadium, said Ferreira had been employed by a company subcontracted to construct the stadium's cover.
The stadium in the Amazonian jungle city is where the England team will open their 2014 World Cup campaign against Italy.
According to the BBC, another worker also died of a heart attack at a nearby site, with his family claiming he was overworked.
Several construction workers have now died at venues connected with the World Cup as Brazil tries to complete its stadiums on schedule.
Two were killed in an accident on 27 November when a crane fell and destroyed parts of Sao Paulo's Arena Corinthians, which will host the opening game on 12 June.
That accident delayed the stadium's completion date by several months. It is now expected to be ready in mid-April.
According to the BBC, the builders' union is now discussing whether to strike over working conditions, with talks prompted by the death of the second worker, at a convention centre building site.
The BBC said that while his death may not be connected with the working conditions, relatives claimedhe was under pressure because the work was behind schedule.
"He worked from Sunday to Sunday," his sister-in-law told O Globo newspaper.
Brazil has admitted it is struggling to have all 12 venues completed on time.
Six venues are ready; the other six have missed this month's deadline set by Fifa - the world's football governing body.