West London development now worth £300m less than 2015 figure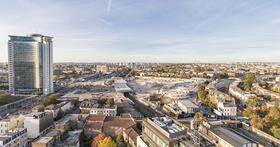 Brexit and the impact of changes to stamp duty has wiped a further 6% off the value of Capital & Counties' 7,500-home Earls Court scheme in the last six months.
The developer's chief executive Ian Hawksworth reported that the scheme was now valued at £1.1bn, 20% down on its 2015 valuation of £1.4bn.
Capco has previously reported that 14% was knocked off the 2015 valuation of the scheme in the first six months of last year.
In its full-year results ending 31 December 2016 Capco posted a pre-tax loss of £240m compared to a £460m profit the previous year, primarily due to property revaluations, while revenue was up 10% for the year to £127m, from £115m the previous year.
Capco said its long-term strategy for Earls Court, which has been masterplanned by Farrells, was unchanged and the firm has already said it wants to increase the number of homes at the site by 2,500 to 10,000. It has put forward proposals to the Greater London Authority in relation to this as part of the consulation for the revised London Plan.
Meanwhile, the £60m demolition of the Earls Court Exhibition Centre, completed last year, and the £40m final 12 month phase of demolition by contractor Keltbray to basement level is underway.
Capco added that the construction cost of its joint venture with Kwok Family Interests for the 808-home Lillie Square project adjacent to the Earls Court masterplan was expected to be £420m, which it said reflected the market conditions in the construction industry.
Construction of the nearly fully sold 237-home phase 1 of Lillie Square is progressing well, while the first release of homes for sale in phase 2 has continued with 59 apartments now reserved or exchanged.
Plans are also progressing for the redevelopment of Empress Place, next door to the former Earls Court Exhibtion Centre, and a planning application is expected to be submitted this spring to create 400 new homes and retail space.
Elsewhere at the scheme, Capco received detailed planning approval last month for the KPF-designed Exhibtion Square which is located at the entrance of the Earls Court estate adjacent to Earls Court Underground station.
The 139,000sq ft scheme includes two buildings housing a 69,000sq ft hotel and 62,000sq ft of office space, a new high street and an a new entrance to Earls Court Underground station.
Capco admitted that there remains a risk of further protests and legal challenges to specific aspects of the Earls Court Masterplan from noise complaints to judicial reviews or listing applications as it progresses – but added that all had been rebuffed so far.