Warning arrives as it emerges top 10 firms from mainland Europe won £7.3bn worth of UK contracts in opening third of 2016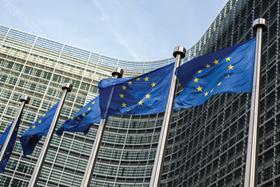 A potential Brexit could deter EU contractors from working in the UK, economists have warned, after it emerged firms from mainland Europe are bidding for British projects worth over £9bn.
According to data provided by Barbour ABI, the 10 biggest contractors in the UK with headquarters elsewhere in the EU won a combined £7.3bn worth of contracts in the UK over the first four months of this year alone.
Seven of these firms - including Amey, part of Spain's Ferrovial, France's Bouygues and Sweden's Skanska - are currently bidding for a combined 71 projects as main contractor, including five packages on HS2 each worth over £1bn.
Michael Dall, lead economist at Barbour ABI, said: "If the referendum is in favour of Brexit, there could be possible ramifications for these 10 companies, alongside other EU-based construction firms who work in the UK."
Dall said overseas firms might be more cautious about investing in the UK following Brexit and added: "It could also cause potential issues for big ticket projects such as HS2, who have EU-based companies launching million-pound bids to work on the development."
The news comes after engineer Cundall and Tony Giddings, former Argent construction director and now an independent director at T Clarke, became the latest high-profile signatories to Building's remain in the EU campaign, Building Says In, ahead of this month's referendum.
Building has come out in support of staying in the EU, after results of a survey of 1,300 construction professionals last month showed two-thirds' support for staying in.
Further analysis of our results by turnover and profession found that larger firms were more likely to back remain than SMEs, although 53% of respondents from firms with a turnover under £5m still wanted to remain, compared with 21% in favour of Brexit.
But a survey of 100 members from SME builders' trade federation the National Federation of Builders has shown that more want to leave the EU than remain.
Some 47% said their business would benefit more from being outside the EU, with only 33% stating remaining would be of greater benefit.