Lipton Rogers co-founder and Saint Gobain boss highlight UK's dependency on EU for labour and skills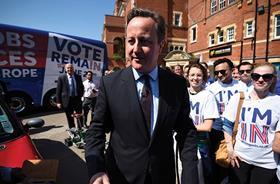 Leading industry figures including the developer behind London's tallest under-construction tower and a top boss at European products giant Saint Gobain have warned of the damage Brexit could wreak on the UK construction sector and beyond.
Peter Rogers, co-founder of developer Lipton Rogers, which is behind the 62-storey 22 Bishopsgate tower in the City of London, joined Building's EU referendum campaign this week, "Building Says IN", and warned of the potential negative impact of the UK leaving the EU on the sector.
Rogers said: "We are highly dependent on the skills that come from the rest of Europe, not only in terms of labour but also large amounts of materials. As part of Europe, we're part of a global economy, the days of the Empire are long past."
Speaking to Building in Prague, Claude-Alain Tardy, president of Saint Gobain's £5.1bn-turnover gypsum and insulation business, warned a Brexit could "destabilise" the wider European economy as well as impacting the UK market, with disruption potentially starting in the London commercial sector before spreading across the continent.
He said: "I think it will destabilise the economy in Europe for some time […] I believe some projects in London will scale down for sure. It will impact the UK market first of all and potentially on the economy for Europe."
I believe some projects in London will scale down for sure

Claude-Alain Tardy, Saint Gobain
The fresh warnings came as fit-out giant ISG became the latest heavyweight firm to throw its weight behind Building's remain in the EU campaign.
The support of £1.5bn-turnover ISG – alongside fellow new signatories interiors firm BW and consultant Exigere, and existing supporters including Mace, JLL and Mott MacDonald – means firms accounting for over £9bn in global revenue are now backing Building's campaign.
BW's chief executive Steve Elliott and sales and marketing director Anthony Brown were among the individuals to sign up this week, with Brown telling Building he was concerned a Brexit could send the London market "into free-fall for six to 12 months".
Brown said BW expected to grow regardless of the referendum outcome – building on its 4% market share in the capital – but he warned the market had already slowed down due to the uncertainty thrown up by the impending referendum: "Last year clients stopped making decisions because of the election and this presents another reason for decisions to be delayed."
Building launched its campaign after results of an exclusive survey of 1,300 construction professionals last month showed two-thirds supported staying in.
The latest developments came as the war of words between politicians leading the Remain and Leave campaigns hotted up this week, with prime minister David Cameron accusing his opponents of six "total untruths" on Tuesday, including claims the UK's rebate was at risk and it could be liable for eurozone bailouts. The Leave campaign stuck to its guns, arguing the EU had "broken its promises before".