Latest IHS Markit/CIPS report shows civil engineering activity up but fears around Brexit heightened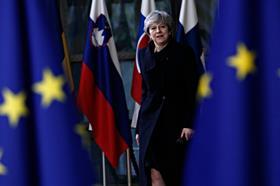 Uncertainty around Brexit and fears about the health of the domestic economy have rendered UK construction firms the least optimistic in nearly six years, according to new research.
The latest IHS Markit/CIPS study of UK construction output reported a rebound in civil engineering activity and while growth in housebuilding and commercial projects slowed this didn't hamper the pair's PMI index, which registered a score of 53.2 in October, up from 52.1 in September.
It is the first time since January this year that civil engineering has been the best-performing segment.
The latest report said that slower new order growth had hit firms' expectations for the future, with companies highlighting uncertainty related to Brexit – prompting clients to delay decisions – and the economy as undermining confidence. IHS Markit's business expecation index fell to a near-six-year low.
Trevor Balchin, IHS Markit's economic director, said despite total UK construction activity rising at a stronger pace in October the underlying survey data "paint a less rosy picture for the sector towards the end of the year".
October also saw pressures increasing on costs, despite the rate of input price inflation easing to a 27-month low.
Firms highlighted increasing fuel, labour, timber and steel costs, while sub-contractor rates also continued to rise.
Blane Perrotton, managing director of surveyors Naismiths, said contractors were putting the hours in to get existing projects completed, "but the pipeline of future work is looking fragile at best.
"No wonder optimism levels are sliding towards levels not seen since the dark days of 2012."