Industry fears Brexit and change of leadership could threaten big-ticket infrastructure projects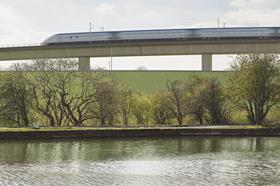 Industry figures have expressed fears infrastructure projects like HS2 and a new airport runway could be scrapped now the UK has voted to leave the EU and David Cameron has resigned as prime minister.
In a statement outside Downing Street, Cameron announced his resignation and said "fresh leadership" was needed to deliver "the will of the British people".
Prominent Leave campaigners Boris Johnson and Michael Gove are the early frontrunners to become the next Conservative party leader – and therefore prime minister – when Cameron resigns in October ahead of the Tory party conference.
Andrea Leadsom, another high-profile leave campaigner, is also tipped as a strong contender for the top job.
Johnson is currently the odds-on favourite with bookmakers to become the next prime minister.
The former Mayor of London is a "conditional" supporter of HS2 but is staunchly opposed to a new runway at Heathrow – as recommended by the independent Davies Commission last July.
If Johnson was to appointed prime minister, it could pave the way for the Boris Island airport to become a reality.
Despite the Davies Commission ruling out the Fosters-designed four runway airport on the Isle of Grain, Johnson said in September 2014: "It remains the only credible solution, any process that fails to include it renders itself pretty much irrelevant, and I'm absolutely certain that it is the option that will eventually be chosen."
Meanwhile Gove's position on HS2 is unclear though the justice secretary is in favour of expansion at either Gatwick or Heathrow.
Leadsom is a strong critic of HS2, said the project "simply does not make economic sense", but the energy minister has previously backed expansion at Heathrow.
The vote could also pose fresh questions for Hinkley Point C, the planned multi-billion pound nuclear power plant in Somerset by French state-owned energy company EDF.
Robert Meakin, partner at Clyde & Co, said: "As for Hinkley, whilst there shouldn't be a direct linkage to Brexit as far as the underlying rationale for the project is concerned, it's difficult to see anything but more delay in store for the much-delayed final investment decision."
Some industry figures have expressed fears over the future of some big projects. Mark Robinson, chief executive of Scape Group, said he fears HS2 and other infrastructure projects could now be under threat due to the economic fallout of the referendum result.
Malcolm Bairstow, UK infrastructure leader at EY, has warned there will be "nervousness" and a "period of uncertainty which may impact decision-making around projects and overseas investment" in infrastructure.
Meanwhile others in the industry have pleaded with the government to continue with projects like HS2 and Crossrail 2.
Patrick Flaherty, Aecom's UK and Ireland chief executive, said it's "critical that the domestic agenda is not sidelined" during negotiations to leave the EU.
He added: "Schemes such as HS2, Crossrail 2 and the Northern Powerhouse programme are vital to the country's ability to compete on a global stage, which is more crucial than ever due to this referendum result."
The Civil Engineering Contractors Association has pleaded with ministers to stabilise government and then re-establish its commitment to infrastructure, particularly HS2 and a third runway at Heathrow, in order to "maintain economic confidence following such a substantial change in the UK's relationship with the European Union and the rest of the world."