Official figures show brick deliveries, seen as an indicator of housebuilding activity, returning to near pre-crisis levels
Brick sales have recovered to nearly their pre-crisis levels, according to the latest government data.
The sales of the common construction material are often seen as a lead indicator of the volume of residential construction, and the recovery comes despite forecasts of a severe drop in residential construction output this year.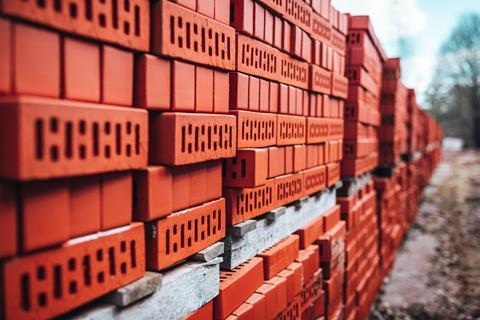 According to monthly data published by the department for business, 156 million bricks were delivered in the UK in July, the highest monthly figure all year, and close to the average monthly figure seen across 2018 and 2019.
This represents a startling recovery from the low recorded in April, when most brickmakers stopped production, and just 23 million bricks were sold. It is also a month-on-month rise of 27% from the figure in June, and the highest figure recorded since November last year.
However, July is typically a strong month for brick sales, and the figure still represents a 12% reduction on the 177 million brick sales made in July 2019.
A raft of data published in recent weeks has provided evidence of a post-lockdown bounce in the housing market, with the Nationwide this week reporting record house prices and the Bank of England data showing mortgage approvals have returned to close to pre-crisis levels.
However, today's brick sales figures suggest that this housing market strength is now feeding through into construction activity on the ground.
Noble Francis, economics director at the Construction Products Association, said on Twitter that the UK brick sales figures were "a useful proxy for house building given no MHCLG starts & completions data", and noted that they had now risen seven-fold from the April nadir during full lockdown.
The CPA's latest construction forecast estimated that residential construction output will drop by a third across 2020 as a whole, to £24bn. The first official GDP figures covering the lockdown period suggested that housebuilding output dropped by a record 52% in the April-June quarter of the year.