The developer also said it was unlikely to start on its controversial Blossom Street this year as had been planned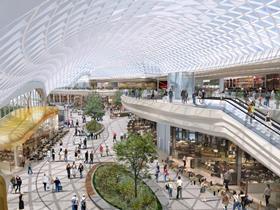 British Land has reported that the upcoming EU referendum is affecting occupier demand with signs of a slowdown in the last few months.
The developer said: "There is evidence that some large occupiers are delaying decisions to take space until after the upcoming EU referendum," adding it believed this was likely to get worse in the short term.
However, the company, which is increasingly focusing on London, said the capital's "global position" will ensure it is able to endure the effects of a potential Brexit in the long term.
British Land said the investment market has also seen volumes fall since January, but remained "healthy" in London due to growing rents, good liquidity and a scarcity of income return around the world compared to the capital.
Despite the recent slowdown British Land has posted strong full year results with underlying pre-tax profit up 14.6% to £377m for the year ended 31 March 2016, up from £329m for the previous year. Total revenue also increased by 6% to £590m for the year, up from £556m for 2015.
British Land also reported that it was seeing signs of construction costs beginning to "moderate" on the back of lower raw material costs. However, the company said tender prices were reflecting the limited capacity within the industry and contractors looking to restore margins and limit their risk exposure.
The developer added it was forecasting cost inflation of 5% per annum and had fixed price costs for all projects under construction.
The firm also confirmed the slowdown in the prime residential market, which it said had been impacted by increased supply and recent tax changes. The super prime market has also seen volumes moderate British Land said. The firm reported that to date it has pre-sold 50% of its super prime residential led development at Clarges Mayfair, adding that the remaining units will not be marketed until their completion in late 2017.
On its pipeline British Land said it was unlikely it would start on-site at its controversial AHMM desinged 340,000 sq ft redevelopment of Blossom Street in Shoreditch this year despite the High Court's rejection of a Judicial Review of former mayor of London Boris Johnson's decision to call in the planning application.
The firm added: "While we are concerned with the delay, we do not own the site and instead have an option to acquire the site from the City of London Corporation."
The most significant medium term project in British Land's pipeline is Canada Water, for which the firm said it expected to submit an outline planning application for in 2017.
The developer is also planning to submit a revised planning application for a larger scheme at 5 Kingdom Street in Paddington by the end of this year and is out to tender currently for phase two of Kingdom Street with a view to starting the second phase in the summer.
British Land added that it expected to be in a position to commence its redevelopment of 100 Liverpool Street in early 2017 for which it has already appointed Sir Robert McAlpine, subject to UBS completing gfit out works at 5 Broadgate.
Elsewhere, British Land unveiled designs for a £3000m extension to Meadowhall (pictured) this month.