Paul Body is to replace Patick D'Arcy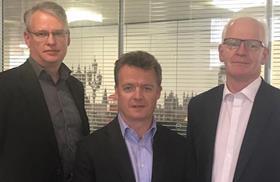 Consultant Bruceshaw has appointed Paul Body as joint managing partner in London.
He takes over from Patrick D'Arcy who held the role for ten years working alongside fellow managing partner Rennie Dalrymple.
D'Arcy is stepping down from the role to focus on key projects and account managment.
Body has been at Bruceshaw for 19 years and a partner for over 13 of those years working with clients including John Lewis Partnership, Estee Lauder and Marks and Spencer.
D'Arcy said: "I am extremely pleased to be handing over the managing partner role to Paul and I believe that he and Rennie Dalrymple make a great team, with the skills to match the collective ambition of Bruceshaw for the bright future that no doubt lies ahead for the business."
Body added: "With our new brand, renewed focus and an exceptional team of people, I am delighted to be taking on the role of Joint Managing Partner, to continuePatrick's excellent work and lead the business through its next stage of development and growth alongside Rennie."
Bruceshaw's current projects include the redevelopment of the London's Victoria Palace Theatre for Delfont Mackintosh Theatres, Eco World / Ballymore's Battersea scheme Embassy Gardens and its Docklands-located residential scheme Wardian London.
The consultant is also working on new department stores at Westfield and Oxford for John Lewis, Taylor Wimpey Central London's Westminster Quarter.