Proposals to 'name and shame' businesses could 'reduce workforce numbers', say key figures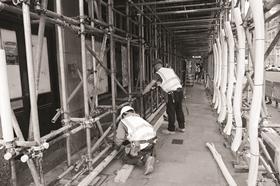 Construction industry figures have slammed the government over proposals to ask businesses to publish the number of foreign workers on their books.
Industry leaders told Building the plans were "appalling" and had the potential to "reduce workforce numbers" at a time when construction faces a skills shortage.
It comes after home secretary Amber Rudd, in her speech at the Conservative party conference, proposed a number of measures to discourage UK firms from employing foreign workers.
These included a clampdown on foreign students at UK universities and plans to name and shame firms who employ foreign workers, though following heavy criticism, education secretary Justine Greening said the data firms report would not be made public.
The Tories' hardline stance on immigration has not gone down well with those in the industry.
Rab Bennetts, principal and founder of architect Bennetts Associates, said: "Was Amber Rudd trying to stigmatise the employment of non-British workers?
"If so, the idea of drawing up lists of foreign workers is appalling and we will have nothing to do with it."
Mark Farmer, founding director and chief executive of consultant Cast, said the plans could "disincentivise" firms from having a diverse workforce and in turn actually reduce staff numbers.
He said: "We're heavily reliant on migrant labour. This 'naming and shaming' thing has the effect of reducing workforce numbers when we already have a big shortage."
A government source told the BBC that any data drawn up could help identify skills gaps or be a factor in deciding whether to grant firms more visas for overseas workers.