Charity teams up with Lighthouse to launch funding initiative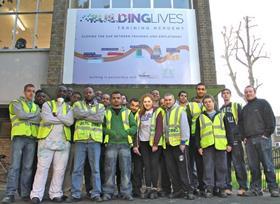 Award-winning training charity Building Lives is to launch a campaign with fellow construction charity Lighthouse to raise £400,000 in 50 days after the CITB cut funding for the charity.
Lighthouse stepped in to organise a campaign to raise the funds so that apprentices currently enrolled with the charity can finish their apprenticeships.
The new initiative aims to allow the apprentices currently enrolled with the charity to finish their apprenticeships.
Funding for Building Lives was cut last month by the CITB as the charity did not conform to grant scheme rules, making it ineligible for funding.
The charity was setup in 2010 by Lakehouse founder Steve Rawlings and won training initiative of the year at the 2014 Building Awards.
The charity runs ten training academies across London and was on schedule to deliver construction training to over 500 unemployed Londoners a year to tackle both unemployment and the construction skills crisis. Since the grant was cut Building Lives faces and estimated £2m long-term funding gap.
Speaking to Building a source at Building Lives said: "Everyone who we got on our books can continue with their apprenticeships. For Lighthouse Charity to approach us is great news
"For the Lighthouse charity to approach us is great news. It's light at the end of the tunnel."