Housing minister keeps up pressure on owners to take responsibility for repairs
The government has said it is not its responsibility to tell residents living in buildings of less than 18m if their homes are wrapped in flammable cladding.
Housing minister Esther McVey said the onus instead was on building owners to keep their inhabitants informed over whether the blocks contained Aluminium Composite Material (ACM) cladding or not.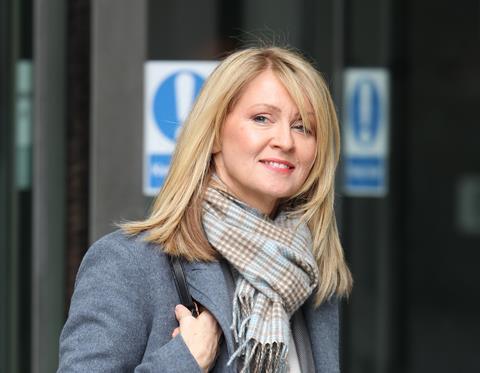 In a reply last week to a written question from Labour MP for Croydon North Steve Reed, who wanted to know what steps the department was taking to "ensure that residents living in blocks below 18m in height with ACM cladding are made aware of the composition of that cladding", McVey (pictured) replied: "The government has been clear that building safety is the responsibility of the building owner.
"Building owners should inform residents if their building has unsafe ACM cladding."
A nationwide survey conducted after the June 2017 Grenfell Tower fire, which killed 72 people, found 450 buildings above 18m in height which were covered in ACM cladding, with just 135 having had the cladding removed as of January this year.
Housing expert Steve Hodkinson, an associate professor in urban geography at Leeds University, told Building: "I suspect no one knows how many buildings below 18m have ACM. This would require each local authority to have collated such data based on developers' as-built plans.
"Given that local authorities had to inspect buildings for ACM above 18m post-Grenfell and were not asked to identify buildings under 18m, I doubt that such datasets exist anywhere."
A spokesperson for the Ministry of Housing, Communities and Local Government said: "Residents' safety is our utmost priority and it is misleading to suggest the government is not acting to ensure buildings are safe.
"Building safety has always been the responsibility of building owners – yet too many have been slow to act to remove unsafe ACM cladding. That's why advice to building owners has recently been updated and we have announced legislation to strengthen enforcement powers to hold building owners to account."
Meanwhile, McVey told Reed the government is considering bowing to pressure from housing groups to fund the removal of flammable cladding on buildings below 18m.
Around £600m has already been allocated by the government for cladding removal on buildings above 18m. Owners of buildings below this height are expected to foot the bill themselves.
Last month housing secretary Robert Jenrick announced plans to extend the ban on ACM cladding to all buildings regardless of height, prompting calls from the National Housing Federation, the Local Government Association and the G15 housing association group for the government to provide the funds to remove it.
McVey admitted the government is now considering supplying the money due to fears that building owners will otherwise be too slow in paying up.
She said: "We are aware of the concerns of leaseholders about meeting the cost of remediation. We do not want the cost to be a barrier to remediation, so the department is considering options to support leaseholders with [the] Treasury."