Government yet to respond to group's warning on new certification rules
Business secretary Kwasi Kwarteng has still not met with industry leaders to discuss a growing crisis over new certification rules for construction products despite being warned over three months ago that it could halt the construction of more than 150,000 homes.
Construction Products Association chief executive Peter Caplehorn said the government has not issued any formal response to an open letter highlighting the problem, suggesting ministers have been distracted by political chaos caused by allegations of parties in Number 10 during lockdown.
The letter, published in November by Construction Leadership Council (CLC) co-chair Andy Mitchell, urged Kwarteng to "rapidly meet" with the group to discuss how to resolve issues with the changeover from the CE marking system to the new post-Brexit UKCA marking.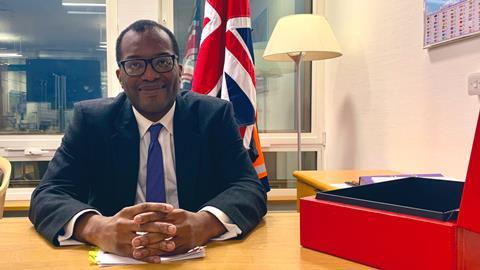 The deadline, which was originally set for 1 January 2022, has already been extended by a year. The business department insisted last August that the new date would be the "final deadline" and warned firms that they "must take action to ensure they are ready".
The switch to the new system on 1 January 2023 means that thousands of key construction products will become unavailable on the UK market unless they are retested and certified before the deadline.
But unlike the existing CE marking, which can be granted following successful tests at centres across Europe, the UKCA marking will require products to be tested at UK facilities.
Several contractors have already voiced concerns that the one year extension will not be enough with Mace chief executive Mark Reynolds and Costain boss Alex Vaughan both saying the deadline will need to be pushed back a second time.
Worries are growing that with limited or non-existent testing capacity in the UK for several products including glass, radiators and sealants, some jobs will stop overnight because of problems getting hold of certified products.
The CLC said in November that an inability to get radiators certified on the UK market could halt the construction of more than 150,000 homes
Caplehorn said that a failure to set up these centres – which themselves need to be accredited and will need staff to be recruited and trained, which could take up to a year – could lead to products "dropping off a cliff" this time next year.
The CLC's letter warned that an inability to certify radiators could see new housing schemes grind to a halt, with "clearly damaging" consequences for the government's housebuilding ambitions.
Sealants, which can take from nine months to a year to get tested, pose particular challenges, according to Caplehorn, who also co-chairs the CLC's product availability and building safety working groups.
He said the CLC still has "a lot of unanswered questions" in regard to how the UK's testing capacity will be brought up to the required levels before the deadline in just over 11 months' time.
He told Building that he had mentioned the issues on multiple occasions to construction minister Lee Rowley, who had "nodded and said he understands the issues and will be discussing it further".
Caplehorn added: "That's all fine but we've still got the problems and we still need to get to a point where we can understand how we take things forward."
Caplehorn said he had been due to meet with former Brexit minister David Frost – but that Frost had resigned in protest at the government's covid and Brexit policies the day after the meeting had been arranged last month.
Officials have now arranged for him to meet with MP and paymaster general Michael Ellis and Caplehorm added: "I'll take whatever I'm given basically in terms of trying to move this along."
While officials have several options available to them to avert a crisis, including extending the deadline again or allowing products to be tested in Europe, Caplehorn said each solution has "significant implications" for supply chains.
"Yes you could extend the deadline, but the industry would need to know sometime beforehand. You could possibly get testing done overseas but for that testing to be legitimate each of the testing houses has to agree that relationship.
"This isn't something that you can just change overnight, it's something that has to be worked through."
The volume of tests that need to be carried out could also carry a significant financial burden for product manufacturers given that it can cost up to £50,000 to test a single item.
The Department for Business, Energy and Industrial Strategy has been contacted for comment.