Labour wanted to know whether government was planning to look at how quickly firm settles its bills on public sector jobs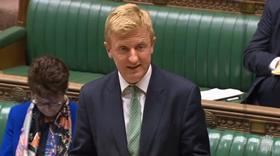 The Cabinet Office has dashed the hopes of subcontractors by saying it has no plans to investigate Kier's payment record on public sector contracts.
The UK's second biggest contractor is one of the government's largest suppliers, with roughly half of its £4.5bn annual turnover coming from public sector work.
Last month Building revealed that outgoing Kier finance boss Bev Dew had admitted to the chair of the business select committee Rachel Reeves that it takes an average of 55 days to pay subcontractors on public sector jobs – despite a requirement to pay all undisputed invoices within 30 days.
But, responding to a written question from shadow cabinet secretary Jon Trickett, Cabinet Office minister Oliver Dowden said the department "has no plans to carry out an investigation into the promptness of payment by Kier".
Any investigation would be carried out by the Cabinet Office's Public Procurement Review Service under legislation introduced in 2015 which, Dowden said last week, "investigates concerns raised by suppliers about public procurement practice, including late payment". He added that "it has not carried out [an investigation into Kier]".
Last month, the chief executive of the Specialist Engineering Contractors Group, Rudi Klein, said the government should launch an inquiry into the compliance of suppliers to payment legislation and that the existing laws should be changed so that interest is added to money not paid within 30 days on public jobs.
In November last year, Dowden revealed a new prompt payment initiative which will come into effect this autumn and aims to ensure the government only does business with companies who pay their suppliers on time.
He said chronic late payers could be banned from winning government contracts.