Business secretary also announces a new business bank and reiterates support for the coalition's deficit reduction plan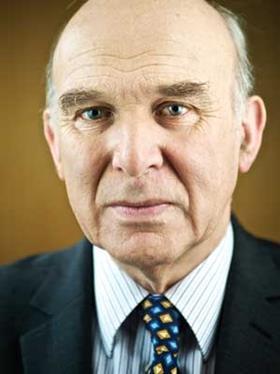 Vince Cable has used his speech to the Liberal Democrat party conference to call for an "aggressive programme of housebuilding" by housing associations and councils across the country as a means to deliver an extra 100,000 homes a year.
Speaking to delegates at the Lib Dem conference in Brighton, the business secretary hailed the government's recent infrastructure and housing package and called for councils and housing associations to take advantage of its move to underwrite £10bn of investment in new homes.
He said: "The numbers of houses completed are currently the lowest in peacetime since the 1920s. Millions of families are in housing need. There is distress in the construction industry. The private market will only heal slowly. Because mortgages are scarce.
"What we need is an aggressive programme of house building by housing associations and local councils, with government providing guarantees so they can build, in large numbers, now. We need an extra 100,000 houses a year to meet demand. That would create half a million new jobs.
"The central point is that the country must not get stuck on a downward escalator where slow or no growth means bigger deficits leading to more cuts and even slower growth. That is the way to economic disaster and political oblivion. We will not let that happen.
"There is still time to turn the economy around. Last year I talked about the economic equivalent of war. We mean to win it."
As expected, Cable also announced that government would set up a new business bank to help provide finance to small businesses, with £1bn of funding made available that he said would leverage £10bn in support.
He said: "We need a new British business bank with a clean balance sheet and an ability to expand lending rapidly to the manufacturers, exporters and high growth companies that power our economy.
"Today I can announce we will have one. I am working with the chancellor to develop a new institution that will combine a billion pounds of new government capital with a larger private sector contribution.
"This will apply leverage through guarantees to support up to ten billion pounds of finance to small and mid-sized business - a significant portion of all the lending currently available."
Cable also reiterated the case for a mansion tax - which he said was "core Lib Dem policy" - as well as a clampdown on tax havens.
Today delegates at the conference passed a calling for extra measures from the government to bolster growth in the economy.
The motion on 'Generating Growth in a Time of Austerity' was brought forward by chief secretary to the Treasury Danny Alexander. It praised the government for taking "difficult decisions," while calling for more action to stimulate the economy.
But delegates rejected an amendment calling for the party to ditch the coalition's deficit reduction plan and adopt a Plan B.
In his speech, Cable reiterated his backing for the coalition's deficit reduction plan: "I have great personal sympathy for the chancellor who is being attacked for borrowing too much, and borrowing too little, at the same time.
"Actually it is not a matter of Plan A versus Plan B or Plan C or even Plan V. Plan A+ is OK by me or plan A++ if you prefer.
"When we came into government we had to balance competing risks: of aggravating the economic downturn through excessive cuts versus the risk of losing the confidence of lenders. I believe we struck the right balance and adopted a deficit reduction plan. I make no apology for my continued support for that fiscal discipline."