Business secretary intervenes to guarantee returns for investors in social housing projects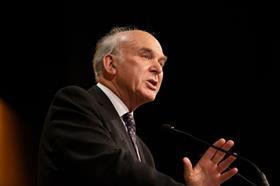 The government is set to extend its plans for guaranteeing returns to investors on key construction projects to the social housing sector, following the intervention of business secretary Vince Cable this week.
The intervention comes amidst worsening economic and housing data and as housing minister Grant Shapps re-launched the government's Get Britain Building fund with £100m to kick-start development on small sites.
Cable used a speech to the Centre Forum think-tank to trail the use of government guarantees to "trigger a significant volume of housing investment".
In addition Cable convened a meeting of 20 senior public and private housing leaders, including Redrow chief executive Steve Morgan, to discuss how to get the industry moving.
A government source said Cable's intervention could be seen as a sign of the growing importance the government is attaching to housebuilding in order to boost its economic growth strategy. The source said plans to use government guarantees were at an early stage, but that Cable was keen to use them to boost construction of mixed tenure housing schemes.
Following the introduction of NewBuy in March, where the government is providing a limited backstop guarantee to banks lending on new build properties, the Chartered Institute of Housing has been lobbying the government to provide similar guarantees to kick-start social housing and mixed developments.
The issue is particularly pressing because the long-term funding previously provided by banks to housing associations has dried up since the credit crunch, and the government's new model of funding requires associations to borrow much more money up-front from banks.
This week chancellor George Osborne said more detail would be available on plans to support housing and infrastructure through state guarantees before the summer recess.
As Building went to press Shapps was set to announce a competition for £100m of funding, to deliver 2,000 homes on stalled sites.
The money is the remainder of the £570m Get Britain Building Fund, launched last year, which wasn't spent because developers pulled out of the scheme.