Wates had been lined up for job but left last spring
Camden council is pushing ahead with the recladding and fire safety refurbishment works for one of the towers on the Chalcots Estate after failing to agree contract terms with Wates last year.
The contractor had been working on all five towers on the north London estate (pictured) since January 2019 under a letter of intent basis and had been expected to take on the programme's major works.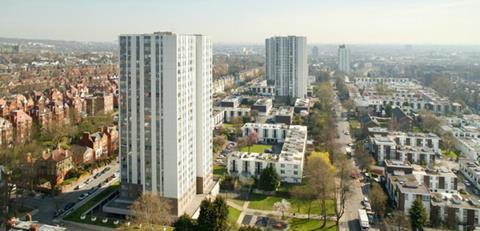 But last spring, the firm left the job after failing to reach an agreement with the local authority over escalating costs.
The new procurement process, which was flagged up via a contract notice, is looking for a firm to carry out a series of tasks on Blashford Tower, one of the buildings on the estates.
As well as recladding, other jobs the £22m deal will include is full window replacement, renewal of flat roofs and the replacement of brickwork to the underground level.
Firms have been asked to register their interest by 11 March, with a shortlist of up to six firms set to be notified by 13 April.
Following the Grenfell Tower fire, the estate was briefly evacuated in June 2017 because of safety concerns over its aluminium composite material cladding, with cladding removal beginning in September that year.
The Chalcots Estate is made up of five high-rise residential towers that were built in the 1960s.
All the buildings were renovated between 2007 and 2009 including recladding that concealed the original in-situ concrete facade walls.
In 2019 the council announced it was pursuing contractor Partners for Improvement in Camden as well as subcontractors Rydon Construction, Rydon Maintenance, Faithful + Gould and United Living South, for the costs of carrying out remediation and fire security on the estate.