Prime minister pushes back at Labour and seeks to reframe the Conservatives as the party of home ownership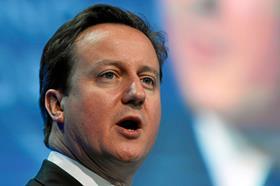 David Cameron has called for more housebuilding in Britain in a speech aimed at restating the Conservative party's claims to be the party of 'aspiration'.
In his speech to the Conservative Party conference today, the prime minister said the country needed to accept that more homes must be built for the sake of young people who wanted to enter the housing market.
He said the government would seek to challenge those who opposed development.
He said: "There are those who say 'yes of course we need more housing,' but 'no' to every development and not in my back yard.
"House building isn't just a vital engine of the economy – it goes much wider and bigger than that. But you know the average age that someone buys their first home today, without any help from their parents? 33 years old.
"We are the party of home ownership and we cannot let this carry on."
He added: "We must accept that we need to build a lot more houses in Britain."
Cameron said too many young people were still living at home: "They sit in their childhood bedroom, looking out of the window, dreaming of a place of their own.
"I want us to say to them – you are our people, we are on your side, and we will help you reach your dreams."
The move to highlight the importance of housebuilding in his speech comes after Labour made housebuilding a key part of its own positioning at its party conference last week, with shadow chancellor Ed Balls saying Labour would use the proceeds from the sale of the 4G licences to fund an extra 100,000 homes.