Latest government figures show 6,000 people have applied for mortgages through Help to Buy in first three months of scheme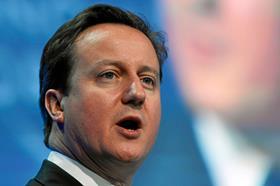 David Cameron has hailed the government's Help to Buy mortgage guarantee scheme after the latest government figures showed that more than 6,000 people have put in offers on a home and applied for a mortgage under the scheme in the three months since it was launched.
The government said today that the mortgages, once approved, would represent nearly £1bn of new lending to aspiring homeowners.
The scheme has come under fire from critics, who say it is stoking a new housing price bubble and is doing little to stimulate supply.
The latest figures also showed that over the first three months of the scheme nearly 750 homebuyers had completed their purchases.
The figures come as Barclays and Santander are set to introduce Help to Buy products onto the market this month, joining Lloyds Banking Group, RBS, HSBC, Virgin Money and Aldermore who have all launched products over the last three months.
The new figures also showed an additional 20,000 households have been supported by the Help to Buy equity loan scheme, where the Government provides an interest-free loan to support the purchase of the newly built home.
David Cameron said: "The New Year is often a time when people look to make those big life-changing decisions like moving home or taking that first step on the housing ladder.
"But too many people have found themselves frozen out of the market in recent years as a result of the size of the deposit required.
"That is why as part of our long-term economic plan we introduced the Help to Buy scheme, so hardworking people with sufficient earnings can get on, fulfil their aspirations and enjoy the security of owning their own home.
"In less than three months, the scheme has already helped thousands of people.
"I want to see that continue in 2014 and for Help to Buy to help thousands more realise their dream of home ownership."