Building was designed by CZWG with interiors by Sir Paul Smith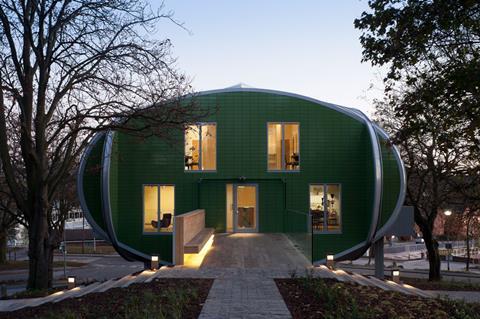 Cancer care charity Maggie's is to open its ninth UK centre in Nottingham today.
The oval-shaped building was designed by architect Piers Gough's CZWG, and boasts interiors by renowned fashion designer Sir Paul Smith.
Gough, Sir Paul, and Sarah Brown - patron of the charity's Joy of Living campaign – will all attend the centre's opening.
The building is situated near the Breast Institute at Nottingham City Hospital, and will complement the treatment offered there.
Gough said of the centre: "The light, peaceful and non-institutional design of Maggie's Nottingham will be a sanctuary for all those who walk through the door. Sheltered by trees, the centre will be a homely, comfortable space next to the busy hospital, where anyone affected by cancer can come to relax.
"The centre is a safe space where visitors can engage with nature while being sheltered from the elements. From the outside the playful appearance will entice people to take a look through the door; once they do the harmony of light and space will create a uniquely welcoming environment."
Maggie's chief executive Laura Lee said: "People across the region have put a tremendous effort into fundraising to make this centre a reality and today the local community should be proud of the lasting legacy they have created for the thousands affected by the devastating consequences of cancer. Our thanks must go to The Nottingham Post and Lynette Pinchess who have been fantastic in raising awareness and rallying support within the community.
"Maggie's proven programme of support will act as an antidote to the isolation and despair of a cancer diagnosis. Piers Gough has designed a truly unique environment, which will help to facilitate this support, by making people feel safe, inspired and valued. Under one extraordinary roof, Maggie's will help people to find their way out of the hopelessness of cancer."
The structural engineer was AKT 11, M&E engineer KJ Tait, QS Turner & Townsend and the contractor was B&K Building Services