Consultant pre-empts public sector switch by adopting process three years before the government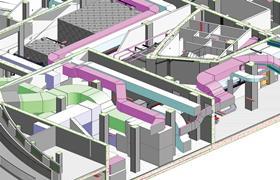 Capita Symonds is mandating the use of BIM across all its design services divisions from 1 July.
The firm – the UK's seventh largest consultant with a turnover of £276m – said it had already completed eight projects using the process.
The mandate is for the company's architecture, services, structures, civils and industrial divisions to use BIM level two - which incorporates 3D modelling, clash detection and other data.
The rest of the business – including project managers, QSs, landscape architecture and planning - will follow suit by December.
Capita Symonds is making the move three-and-a-half years before the government mandates the use of BIM level two across all government projects in 2016, as more evidence emerges that the private sector is driving faster adoption of the system than the public sector.
Research conducted for Building's forthcoming Client Intelligence White Paper found that less than a fifth of public sector clients (18.9%) have used BIM, whereas almost a third of private sector clients (31.5%) have done so.
Andrew Pryke, design director at Capita Symonds, said the firm was responding to projected demand from public and private sector clients.
He acknowledged there would be an upfront cost but said the firm was "confident" the investment would pay off in the medium to long term.
He added that the financial strength of Capita Symonds' £2.9bn-turnover parent company Capita had allowed the firm to make the investment in BIM.
The company has partnered with Autodesk to look at how to adapt BIM software to its needs, such as for masterplanning and modelling cities.
Surveys have suggested quantity surveyors are among the slowest professions at adopting BIM. A RICS survey last October found that only one in 10 QSs were considering adopting BIM.
To pre-order the white paper click here.