Keith Cochrane said government decision was the wrong one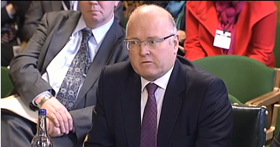 The man at the helm of Carillion when it went bust has revealed he is "still perplexed" the government did not step in to stop the company from going under.
Fronting the public accounts and public administration and constitutional affairs committees, interim chief executive Keith Cochrane (pictured) said he still felt government had made the wrong call.
He said: "As we analysed the potential ramifications of a liquidation we believed, and frankly I continue to believe, that the least cost outcome to the taxpayer would have been if government had been willing to support us.
"We were not looking for a bailout. That was not how I viewed government support. This was a short term loan to facilitate a broader restructuring."
In the wake of these comments, MPs asked Cochrane how surprised he was that the government had allowed the company to fail.
Cochrane answered: "I was very, very disappointed. I was surprised, yes, because for me it was not the rational, logical decision to make."
Cochrane said he felt the firm's final proposal to government had addressed government's key concerns about providing financial support to the then-failing contractor.
He said: "The feedback we had from government on our initial request was there was a concern around that if they provided the funding would the banks pull the rug from under us?
"We believed there was a logical case. I'm still somewhat perplexed that they weren't able to give us the support. I felt quite confident that government would support us recognising some of their concerns.
"Our final proposal was one where we got banks to commit to put additional funding in."
Cochrane stressed the company had sought support from government as its largest customer, with government being responsible for 45% of its contracts when Carillion went belly-up.
He also said there had been a number of ways government could have helped the undersiege business, throwing a spotlight on a problem services contract with the Ministry of Justice.
Cochrane said: "There was a number of different ways cash could have come into Carillion.
"We were hoping to get more money out of the prisons contracts, we had claims on the table and we were discussing them with the Ministry of Justice."
Asked whether extra money from that contract would have been enough to keep the company afloat Cochrane said: "It would have been benefcial."