NHS Trust says scheme being built next door to stalled Royal Liverpool job faces being caught up in fallout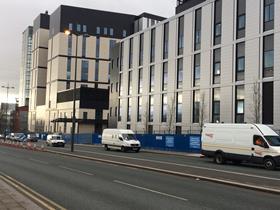 A specialist cancer hospital being built by Laing O'Rourke next door to the stalled Royal Liverpool Hospital faces being caught up in the Carillion collapse, according to the NHS trust overseeing the problem-plagued project.
Laing O'Rourke is building the Clatterbridge Cancer Centre which is next to the Royal Liverpool Hospital (pictured) site. There has been no activity on the Royal Liverpool site since Carillion went bust in January.
But in papers published ahead of its latest monthly board meeting tomorrow, the Royal Liverpool and Broadgreen University Hospitals NHS Trust said the neighbouring project was now facing potential delays.
In a construction update, it said: "The [board] was informed that the delay to the new Royal could potentially have an impact on the construction of the Clatterbridge Cancer hospital site."
It is not clear how the site would be affected. Laing O'Rourke declined to comment.
The board said the project still had the backing of Legal & General and the European Investment Bank (EIB), despite the EIB withdrawing funding from Carillion's other stalled hospital job, the Midland Metropolitan hospital.
The trust said it expected there to be greater clarity about the future of the project at its board meeting next month, while Arup's review of the structure of the build was still ongoing.
It also said the delay to the already late job could be in excess of 12 months.
Earlier this month, the National Audit Office said Carillion had racked up losses of £83m alone last year on the Royal Liverpool scheme with the spiralling costs attributed to a 14-week hold-up due to asbestos and structural deficiencies that required repair.