Firm was facing hit of more than £200m last year alone on road and hospital schemes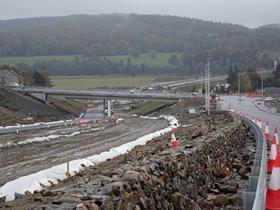 More details over the scale of losses Carillion was facing on the three UK contracts blamed for helping send the firm under are revealed today with a National Audit Office report saying the firm got caught out after bidding too low for schemes and failing to carry out enough due diligence.
The bust firm was facing losses of over £200m last year on the Aberdeen bypass scheme in Scotland, the Midland Metropolitan Hospital and Royal Liverpool Hospital jobs.
According to a report on the government's handling of Carillion's failure, the road scheme, known as the Aberdeen Western Peripheral Route, was responsible for the biggest loss, at £91m, with the Liverpool job hitting the firm for £83m and the Midlands job for another £48m.
The eye-watering amounts are part of a 52 page report into the £5bn turnover firm's collapse in January.
The National Audit Office (NAO) said Carillion had got into difficulties on the Aberdeen deal (pictured) after bidding too low for the job, failing to resource it properly and underestimating the impact of local ground conditions – the road runs through areas notable for high water and peat levels.
It also said the firm, which was carrying out the deal with joint venture partners Balfour Beatty and Galliford Try, ran into problems with oil firms having to get their approval to carry out work around oil pipelines.
On the Liverpool scheme, spiralling costs were attributed to a 14-week hold-up due to asbestos, delays to the design of the new hospital, structural deficiencies that required repair and a lack of due diligence before construction started.
And the Midlands scheme was blighted by a 17 month delay to "critical" design elements, poor structural designs and spatial constraints that made it difficult to fit all the plant machinery necessary on site.
The £222m figure for the three jobs is 50% higher than the number predicted by Carillion in an internal rescue plan it drew up for banks and ministers which was published after the firm went bust.
Work is yet to resume on either hospital, while Balfour Beatty and Galliford Try have both taken significant financial hits of their own on the Aberdeen job which is slated to complete later this summer and open a year later this autumn.
Carillion was also expected to take a hit of around £12m on a problematic facilities management contract with HM Prison & Probation Service which was marred by "inaccurate tender assumptions".
The figures come from the National Audit Office's (NAO) analysis of an FTI Consulting report and information provided by former Carillion directors.
The NAO said the losses were inclusive of expected claims recoveries but not full claims lodged.
It also said government does not necessarily agree with the size of the loss, which may have implications for future claims.
It comes as the NAO said the taxpayer was already on the hook for the £148m to cover the costs of the collapse with the true cost not being known for years